HOURS & LOCATIONS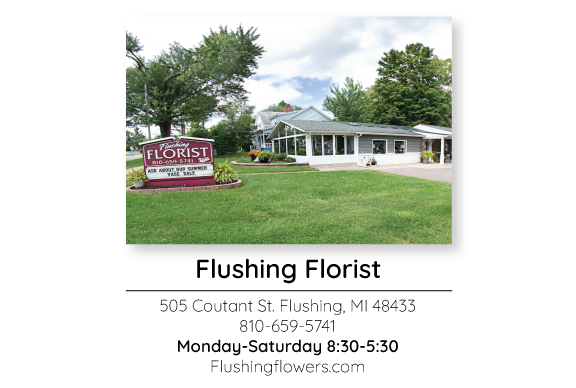 Flushing Florist is happy to be one of 4 locations in the Vogt's Family of Fine Florists. We are family owned and
locally operated. Flushing Florist proudly delivers to Flushing, MI, and the surrounding Genesee County Area.
We are committed to offering only the finest floral arrangements and gifts, backed by service that is friendly
and prompt. Because all of our customers are important, our professional staff is dedicated to making your
experience a pleasant one. That is why we always go the extra mile to make your floral gift perfect.
______________________________________________________________________________________________
Flushing Florist
505 Coutant St. Flushing, MI 48433
810-659-5741
Monday-Saturday 8:30-5:30
Vogt's Flowers and Gifts - Main Location
728 Garland St. Flint, MI 48503
810-238-6487
Vogtsflowers.com
Monday-Saturday 8:30-5:30
Vogt's Flowers Grand Blanc
11626 S. Saginaw St. Grand Blanc, MI 48439
810-694-0008
Grandblancflorist.com
Monday-Saturday 8:30-5:30
Vogt's Flowers Davison
425 S. State Rd, Davison, MI 48423
810-653-3700
Vogtsflowersdavison.com
Monday-Saturday 8:30-5:30